ILITCH Cavity Noise Canceling System R2 for Les Paul (CVNCS R2)
Back Plate – enlarged Rhombus shape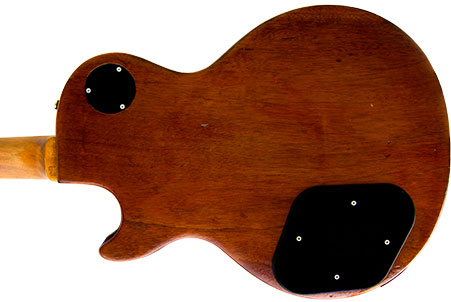 LP style guitars that have a back control cavity and one or two single coil pickups can be retrofitted with a CVNCS R2.
Note – All single coil pickups MUST be same polarity same winding direction (No RWRP!)
The CVNCS R2 replaces the control cavity cover and has been designed to fit the original hole pattern, making it 100% non invasive. Recommended for P90 or similar style of pickups which read between 7.0K and 9K resistance.
CVNCS R2 User's Manual:
Download as a PDF document HERE
Available colors: Black Gloss, Custom (must be at least 0.09″/2.3mm thickness)
Notes:
1. All single coil pickups need to be same magnetic polarity and same winding direction (NO RWRP)
2. The LP CVNCS-R2 hum canceling operation will not perform properly with any "in series" or "out of phase" pickup connections
Find your wiring diagram options Here
Audio MP3 files recorded with a close located Audix mic, AC 30 – all tube amplifier and LP Goldtop Guitar equipped with IP90 pickup on Bridge position and IP90 on Neck position
"I had Ilitch Chiliachki (inventor of the Suhr Backplate system) "silence" my '56 Gibson Historic LP w/ P90s…absolutely amazing how quiet it is without messing with my tone at all.
Made it possible for me to crank my Paul through my Naylor amp loud as balls without the crazy noise & hum that was there before…"
TD Moyer 
Notes:
1. All single coil pickups need to be same magnetic polarity and same winding direction (NO RWRP)
2. The LP CVNCS-R2 hum canceling operation will not perform properly with any "in series" or "out of phase" pickup connections
Find your wiring diagram options Here
Audio MP3 files recorded with a close located Audix mic, AC 30 – all tube amplifier and LP Goldtop Guitar equipped with IP90 pickup on Bridge position and IP90 on Neck position
"I had Ilitch Chiliachki (inventor of the Suhr Backplate system) "silence" my '56 Gibson Historic LP w/ P90s…absolutely amazing how quiet it is without messing with my tone at all.
Made it possible for me to crank my Paul through my Naylor amp loud as balls without the crazy noise & hum that was there before…"
TD Moyer 
Please place your order using the price list table bellow
CVNCS R2 price list

Product name



Strength



Best matching Single coil pickup type


Price

Buy via PayPal

CVNCS-R2-STD





CVNCS-R2-POW





CVNCS-R2-HOT

12





16





20

SC pickups with Alnico ROD magnet poles; 6-8KOhms resistance




SC pickups with Alnico ROD magnet poles; 8-12Kohms resistance




P90 pickups with 6 steel screw poles; 7-9Kohm resistance.
(Most common)

$250





260$





270$
INTERNATIONAL shipping price list
Shipping method

Estimated delivery time. Description

Price

Buy via PayPal

USPS Priority Mail





USPS Express Mail





DHL Express

10 Business days; Two weeks; Tracking – available for some countries





5 Business days; One week; Tracking – available





3 Business days; Tracking – available




Note: Additional duties, taxes, and/or customs fees may apply on your side

$40





$60





$70
[/fsn_text][/fsn_column][/fsn_row]